Cook's By The Ocean is an oceanside summer beach cottage colony located on the sand dunes above the Atlantic Ocean in South Wellfleet, Cape Cod. Cook's consists of 14 dune beach cottages available for weekly rental, spaced out over many acres of ocean beachfront setting atop the 125-foot high dunes that Cape Cod and Wellfleet are so famous for. Cook's has been in continuous operation by the same family for over 85 years, during which time it has been refined it into a truly unique beach vacation setting. A place where simplicity and peace so richly define both the time you spend here with us, and the memories you take away with you. You won't find any telephones, fax machines, TV's or dishwashers here where tide tables replace clocks. Kids play together in the same safe and natural environment as has been enjoyed for generations, and yes, we are pet friendly.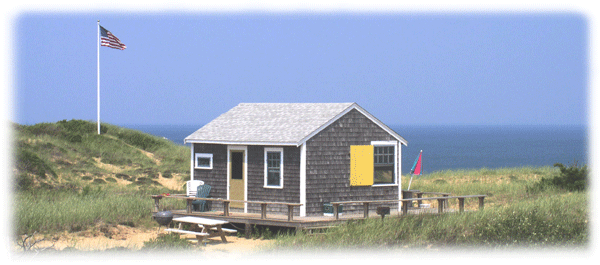 Henry Beston in his famous bestseller, "The Outermost House, described Cape Cod as the remnant of an ancient land standing some 30 miles out on the eastern coast of the United States into the Atlantic. A fragment worn by eons of wind and tides, stratified with the many substances that it is made up of, displaying a range of colors, from old ivory to golden rust. At the forefront of this eastward bastion of lost time is South Wellfleet, and at it's very center is Cook's By The Ocean. The land that Beston described is still there, still exists in the crucible of wind and tide, and can still be experienced. Come to a place that is as timeless as the beach on which Beston's outermost house once stood. A place only a few miles from the very beach Beston immortalized. Come to Cook's and live for a while in a cottage not unlike the one from which he wrote. Come stay in one of our cottages, each built with the same style, and in many cases built in the same era, and of the same materials that Beston's beloved Fo'castle was built from, each as close to the surf as was Beston's. Wake up each morning to the same sounds of wind, tide, and of nature that Beston woke up to nearly 80 years ago. Come visit Henry Beston's Cape Cod. Come stay with us at Cook's By The Ocean.

South Wellfleet is a part of Wellfleet, which located two thirds of the way down the Cape towards Provincetown, between the towns of Eastham and Truro, and is noted for it's unmatched ocean and bay beaches. The seaside community of South Wellfleet is home to the historic site of the Marconi Station from where Marconi sent the first trans Atlantic radio message from President Theodore Roosevelt to King Edward of England in 1903. Wellfleet embodies all the best qualities associated with a New England summer resort town. Its location on the Cape allows for quick & easy access to all the best attraction the Cape has to offer. From golfing in Wellfleet and Truro, to visiting and shopping amongst the historic shops of Provincetown, to visiting the variety of artist's studios and shops in Wellfleet, Provincetown and Orleans. Also bicycling along the 25 mile Cape Cod Rail Trail or hiking the nature trails of neighboring Marconi Station, and Cedar Swap, as well as birdwatching and nature trails at the nearby Massachusetts Audubon Society's Wellfleet Bay Wildlife Sanctuary. There is very little of what Cape Cod offers that isn't easily available from Cook's By The Ocean.